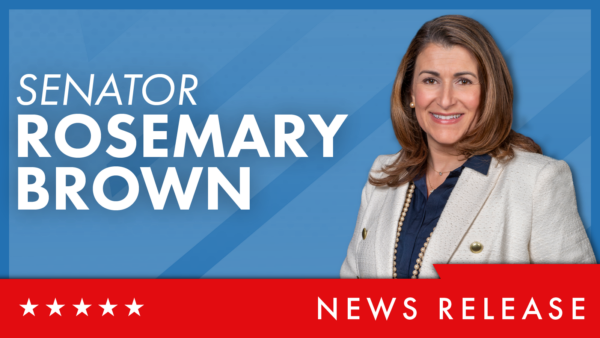 HARRISBURG – State Sen. Rosemary Brown (R-40), who was sworn into office on Tuesday to begin her first term in the state Senate, today announced she has been appointed to serve as chair of the Senate Local Government Committee.
"I'm honored to represent the residents of the 40th Senate District and pleased to chair this very important committee," Brown said. "I will work hard as a senator to ensure we make common sense, thoughtful decisions for our district and the entire Commonwealth. This is a critical time with a multitude of issues facing our state and we need to make smart short and long- term decisions."
The Senate Local Government Committee reviews legislation that affects Pennsylvania's more than 2,500 county and municipal government entities. The committee also oversees the Pennsylvania Municipal Retirement System and the Pennsylvania Sheriff and Deputy Sheriff Education and Training Board.
Brown was appointed to serve on six additional Senate Committees. She will serve as vice chair of the Senate Community, Economic and Recreational Development Committee. She also will serve on the Senate Appropriations Committee, Senate Judiciary Committee, Senate Labor and Industry Committee, Senate Transportation Committee, and Senate Urban Affairs and Housing Committee.
The Senate Community, Economic and Recreational Development Committee works with the Pennsylvania Department of Community and Economic Development to advance legislation and enact policies aimed at promoting business investment and growth in the Commonwealth. The committee also oversees the Ben Franklin Technology Development Authority, Commonwealth Financing Authority, Pennsylvania Economic Development Financing Authority, Pennsylvania Gaming Control Board, Pennsylvania Industrial Development Authority and the Pennsylvania Minority Business Development Authority.
"I'm committed to working with my colleagues to expand economic opportunities by working with businesses, enacting policies to support tourism initiatives, expand broadband services and promoting other measures to enhance job creation in Pennsylvania," Brown said.
The Senate Appropriations Committee reviews the fiscal impact of all legislation and plays a crucial role in negotiating and developing the annual state budget. The committee holds a series of public hearings each year to review the governor's budget proposal, hear from the leaders of state agencies and departments, and ensure tax dollars are spent efficiently and effectively.
The Senate Judiciary Committee handles a wide range of issues pertaining to Pennsylvania's criminal justice system. The committee reviews bills designed to increase justice, fairness and the protection of fundamental rights. The committee works closely with the Pennsylvania Attorney General's Office, Office of Victim Advocate, Pennsylvania Department of Corrections, Board of Pardons, Pennsylvania Parole Board, Pennsylvania Commission on Sentencing, and the Pennsylvania Commission on Crime and Delinquency.
The Senate Labor and Industry Committee reviews legislation and oversees programs and policies affecting employers and workers, including the Commonwealth's Workers' Compensation Program, Unemployment Compensation Program, workplace safety regulations, building codes, and workforce training and development initiatives. The committee also oversees the Pennsylvania Department of Labor and Industry, Human Relations Commission, Unemployment Compensation Board of Review and Workers' Compensation Appeal Board.
"The Commonwealth must be committed to workforce development programs and educational initiatives to help build our workforce and build employment for residents. We need to prepare for the jobs of today and tomorrow and the employees needed to attract businesses to Pennsylvania" Brown said.
The Senate Transportation Committee considers legislation and provides oversight for all operations of the Commonwealth's multimodal transportation system, including policies and programs related to roads, bridges, public transportation, railroads, airports and ports.
The Senate Urban Affairs and Housing Committee reviews legislation pertaining to public housing, urban development, land banks, condominiums, cooperatives, planned communities, and vacant and unimproved public lands. The committee also oversees the Pennsylvania Housing Finance Agency.
Brown has currently established two district offices to serve residents in the 40th District. The Monroe County district office is located at 2398 Route 611, Suite 211, in Scotrun, and can be reached at 570-620-4326. The northern district office for Lackawanna and Wayne counties is located at 487 Cortez Road in Jefferson Township.
Residents also are encouraged to learn more about Rosemary Brown by visiting her website at www.SenatorBrown40.com and signing up for her weekly email newsletters.
The 40th Senate District includes areas of Lackawanna and Wayne counties and all of Monroe County.
CONTACT:
Mackenzie Mueller
mmueller@pasen.gov