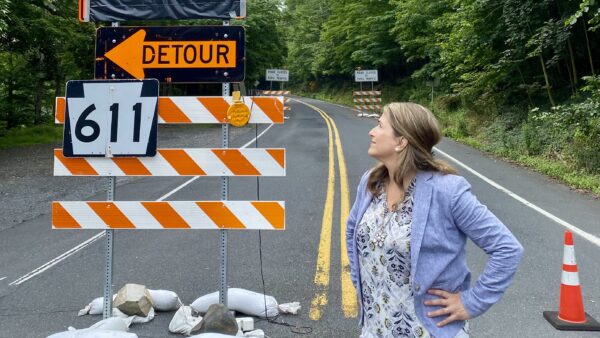 MONROE COUNTY – Sen. Rosemary M. Brown (R-40) and officials from the Pennsylvania Department of Transportation (PennDOT) secured emergency funding in January and have been working diligently behind the scenes to acquire the necessary permits and specialized labor to address the safety concerns on Route 611 – which has been closed since December due to rockslides. The goal is to reopen this critical roadway for motorists, even just to one lane.
PennDOT has also been working expeditiously to obtain the required permits from the National Park Service.
"The state is prepared to move forward with the necessary work. We can activate a crew in 3-4 days," said Brown. "We need the National Park Service and federal government to feel the same urgency we do at the state and local level."
Route 611 is a busy road connecting the boroughs of Delaware Water Gap and Portland and is used regularly by locals and commuters and as a detour to Interstate 80.
"The lack of detour options for I-80 is of significant concern," said Brown. "We have seen it multiple times already – crashes and accidents on Route 80 causing severe congestion with no options for rerouting. This is a major issue for emergency response and public safety."
"If something happens, I am putting it on record our federal government has lacked the urgency to figure out the permits and property ownership details. Seven months is more than adequate for patience from the state level," said Brown. "This is an emergency project with emergency dollars – it needs to be treated like the emergency situation it is."
Senator Brown is requesting residents and business owners of Pennsylvania and New Jersey to demand attention, answers, and action from their federal government.
CONTACT:
Mackenzie Mueller, 570-620-4326